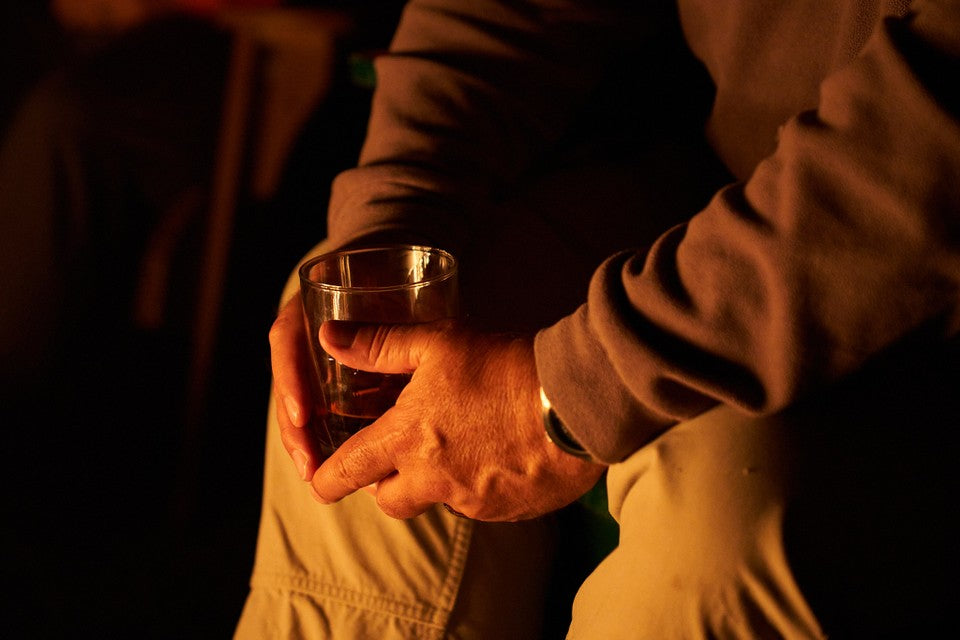 There is a lot to be proud of in 2022. 
It's this time of year that we take a look back at the year we're leaving so we can reflect and appreciate everything that helped us grow over the past 12 months. And this year was a doozy. 
We were involved with three huge charity efforts. Our watches adorned the wrists of Gold Medal Olympians. We released a new standard production watch, and several special edition watches. There was bourbon sipped, conversations had, and fish caught (erm…sometimes not caught). And we loved every second of it. 
Read on about our favorite moments of 2022, and remember that none of these would be possible without the amazing community that supports us and our dream of making the best damn watch and watch community in the country—nay, the world. 
Cheers, watch fam! 
2022 Winter Olympics / Team Shuster Edition Humboldt
Did I ever dream that one of our watches would be worn by an Olympic Gold Medal winner while carrying the American flag during the Olympic Opening Ceremony? Nope, definitely didn't. But did it happen? Yes, absolutely did! 
John Shuster, the skip of America's most beloved curling team, wore his Humboldt 12hr, along with the rest of the team (hi guys!) for the whole world to see!
The Team Shuster Humboldt 12hr received a ton of press and attention from the watch world and well beyond (did you know we were mentioned in ESPN?) not only as a complement to Curling Team USA's impeccable style but also for the piece of curling rock that adorned the caseback. 
Only 10 pieces made it out into the world — five for the US Curling Team and five for the public. The benefit of running an independent watch brand is we get to do cool things, no matter how off the wall they might sound. 
Read more here: https://oakandoscar.com/blogs/the-dial/introducing-team-shuster-humboldt-12hr
Three Charity Pieces (Ukraine watch, Olmsted NAOP, Brian LaViolette) raised over $26k for good causes
It's really amazing to see how much good watches can bring to the world. Watches are more than just a treasured item to wear and pass down to future generations—they can also inspire. We were so honored to create three unique pieces this year with the aim to help others. We raised over $26k for various causes that meant a ton to our whole team: 
We Stand With Ukraine Special Edition Custom Prototype Watch


While watching Russia's unjust invasion of Ukraine, our team felt the sheer weight of war that was being forced upon this nation. We started brainstorming ideas of ways to raise money to help in any small way we could. A few hours later, we had a custom watch adorned with Ukraine's blue and yellow flag colors with blue and yellow straps. We were floored as bids started coming through and watched as our community shared the post across social media. In the end, an anonymous bidder won with a $12,500 donation, and we sent all of it to the International Committee of the Red Cross. Still in awe of this one.




Read More:

https://oakandoscar.com/blogs/the-dial/we-stand-with-ukraine

National Association of Olmsted Parks Special Edition Olmsted


It would be Frederick Law Olmsted's 200th birthday this year, and it's only right that we would create a watch to benefit the association that preserves the legacy of the man who dedicated his life to the creation, maintenance, and promotion of natural urban areas (NAOP). What would New York be without Central Park? What about Chicago without Jackson Park (the namesake of our Jackson Chronograph Flyback)? Raffle tickets were sold for $50 a pop, and ended up raising nearly $9,000 when it was all said and done.




Read More:

https://oakandoscar.com/blogs/the-dial/olmsted200-special-edition-watch-raffle

The One-Of-A-Kind Brian LaViolette Edition Humboldt 12 hr





We created a one-of-a-kind Humboldt 12hr with a hand-machined bevel expertly crafted by our Director of Watchmaking, Nathan. It is a cause worth extra effort — the Brian LaViolette Scholarship Foundation has presented over 1,000 scholarships to deserving students over the past 30 years in honor of the foundation's namesake, who loved watches and had his own collection before he tragically died while swimming as a teenager. As the hammer dropped to close the auction, our contribution to the Brian LaViolette "Once Upon a Time" Watch Project fetched $5,000 ($6,250 all in with buyer's fees included). Plus, when else will our brand be pictured

alongside the Pope's Swatch

?




Read More:

https://oakandoscar.com/blogs/the-dial/brian-laviolette-foundation-auction
Launched Green Dial Olmsted
The best compliment we've been given about the new green dial Olmsted, besides how darn good looking it is, is how it seems to just "fit in" with the current dial colors. Almost like it's existed since the launch of the Olmsted in 2019. 
We fittingly debuted the green dial on the Olmsted 38, a watch named after the famous American landscape architect of the same name. The forest green color of the dial came—ahem—naturally to us as it represents the trees that tower around the trails we hike and the rivers we fish. 
As of this writing, we only have a few left. If you've had your eye on it, jump over and snag one now. 
Relaunched the Watch Table 
One of the most fun things we get to do at Oak & Oscar is film the Watch Table and I'm so excited that we were able to resume filming this year. 
For those of you who aren't familiar with our ongoing series, The Watch Table is a series of interviews with watch collectors to understand what they collect, why they collect, and what their collection means to them. 
This year we interviewed Andrew Bezner (@vintage1982benz) and Mike J. (@dr.day.date); the latter was our first interview in the field next to a river that we fished. If anyone else wants to go fishing and record a watch table interview, please let us know. There are more coming in 2023 that we cannot wait to share with you.
See the full Watch Table collection here: https://oakandoscar.com/pages/videos
Launched Humboldt GMT
One of the most exciting launches we've done in recent memory. Not only because we flew out to Switzerland and filmed a little video, but also because the Humboldt GMT is a piece we're really proud of. 
With the extra case technology (including anti-magnetic and anti-shock with 20ATM water resistance) and dashing good looks if we do say so ourselves, we sought to create the ultimate travelers' adventure watch and feel like we hit the mark.
And the cherry on top? You all loved it too. We received great feedback from the watch community. Check out the hashtag on Instagram, and some write-ups on Fratello Watches, The Watch Clicker, Worn and Wound, and Hodinkee.
Seven Year Humboldt
We made big plans to properly celebrate our seven-year anniversary and first Chicago WindUp. The Humboldt Seven Year celebrates our seventh year in business and showcases what we can do and why we're one of the best small independent brands out there. 
With a hand-cut brass bezel, hand-finished dial, and a sandblasted rotor we are confident that the Humboldt Seven Year combines true craftsmanship with our iconic design. Watch the behind the scenes video of our team creating this watch.
We have so much fun with these small-batch, celebration watches. If you missed this one, make sure that you're subscribed to our email newsletter — our Watch Fam is the first to know about special releases.
Fly Fishing in Switzerland
I was in Switzerland this Spring to help with the final production and quality control of the Humboldt GMT. We spent hours sitting in sterile watchmaking clean rooms looking at tiny parts, analyzing technical plans, and scrutinizing all the details. 
I had one day off before heading back to Chicago and I was dead set on fly fishing. I mean, who wouldn't want to go fly fishing in Switzerland? 
I found a local guide (Hi Pascal!), brought my waders and wading boots, and caught an uber-early train out to the mountains. Yes, I took a train to go fly fishing. How fun is that?
It had been stormy all week and the water was far too fast and high. But I'd come all the way from Chicago and had spent a week indoors so I wasn't going home without wetting a line. It was a beautiful day full of ever-changing weather, lots of fun, and zero fish. I'd do it again tomorrow.
Watch the video from our fishing trip here: https://www.youtube.com/watch?v=Z2wRP6NrwBQ
Bonus: Favorite Blog Post of the Year
What do Anastroga Bitters and watches have in common? Besides the fact they both are perpetually in stock at Oak & Oscar HQ?
We'll tell ya.