Oak & Oscar Raffles Special Edition Watch for Olmsted 200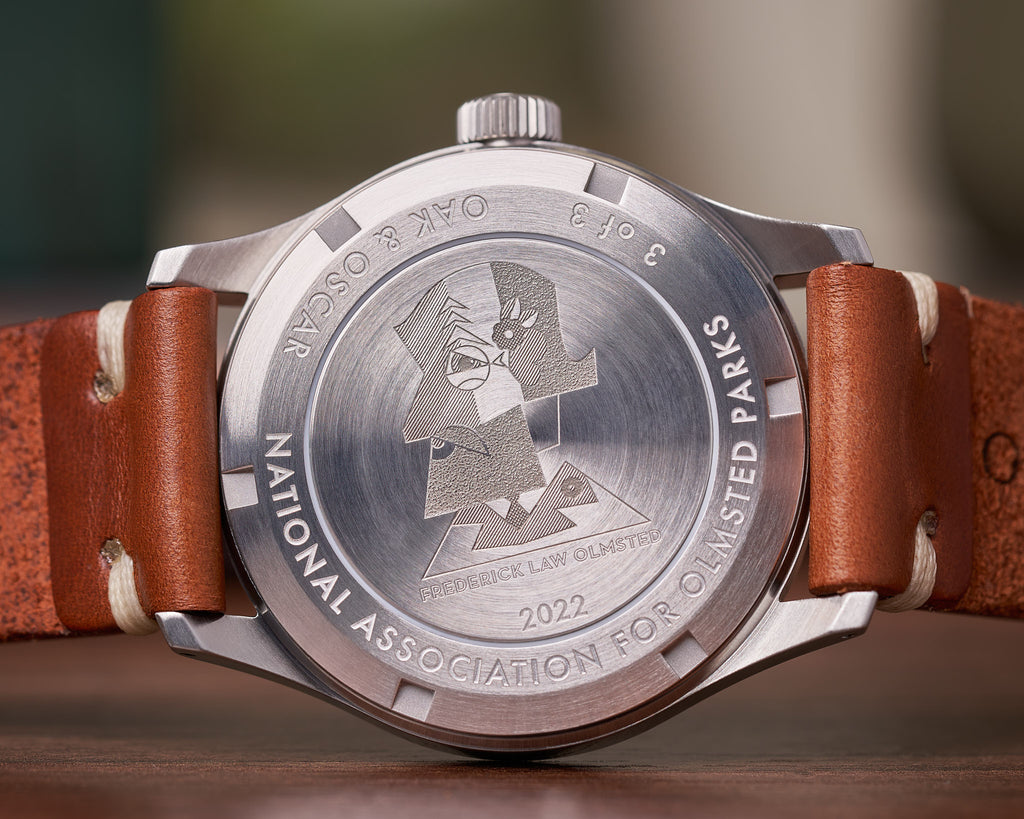 In the year that would have been Frederick Law Olmsted's 200th birthday, Oak & Oscar is partnering with the National Association of Olmsted Parks (NAOP) and Olmsted 200 to celebrate the legend that created and influenced green spaces and parks all around the country. 
Familiar with Central Park in New York City? How about Jackson Park in Chicago, for which we named a watch? Maybe Yosemite National Park in California? Yup, those (and many others) are part of Olmsted's legacy. 
If you've been around these parts for a while, you'll likely recognize the Olmsted name: we initially released the Olmsted 38 as a tribute Frederick Law Olmsted's contribution to these United States as one of the incredible American landscape and public space architects in our country's short history.
Despite his passing 119 years ago, we're still celebrating him and his legacy this year with the release of three special-edition Olmsted 200 watches.
Two will be going to the top advisors for the National Association for Olmsted Parks, and one will be raffled off this November. More on that below.
Who is Frederick Law Olmsted?
Frederick Law Olmsted, known as The Founder of American Landscape Architecture, advocated and created many of the urban green spaces that we know, enjoy, and love today (here's the list—it's too long for us to print without losing readers). Without his influence, we likely would not have known the iconic spaces that provide refuge from the noise and endless steel that comes with an urban core.
That's why we made a watch to commemorate the Olmsted legacy — we love our hometown of Chicago, and we know it wouldn't be the same without easy access to green space.
One of Olmsted's core values is "Democratic Spaces", removing any exclusionary clauses that could prevent someone from visiting, enjoying, and rejuvenating in the parks. He felt these spaces were so important to improving the human experience that there should be no barriers impeding a person's pursuit of happiness through natural immersion.
Frederick Law Olmsted's Mission
Olmsted believed that public green spaces provided multiple benefits for the surrounding community:
Public Health
Frederick Law Olmsted's core belief was about parks for all people. He saw the enjoyment of nature as a right of the people, a right that would benefit not only the person enjoying the green spaces but also the community surrounding it. 
During his rise in the late 19th century and into the early 20th, urban centers were becoming increasingly commercialized. With that commercialization came air and noise pollution permeating each facet of city life.
The quality of life in urban centers became so taxing to the average person that Doctors in the 19th century started to prescribe patients with walks in the park to promote faster recuperation, according to the Olmsted 200 website. Many of these theories were studied and proven with recent reports about "forest bathing", or taking a long, quiet walk in the woods to promote mental and physical health.
Ecological Health
During rapid industrialization, there was little (if any) regard for the natural world.
Landscapes were demolished in pursuit of profits, followed by pollution brought on by the new factories and their coal-burning tools. Humans and trees weren't the only victims of this new lifestyle — suddenly, all sorts of birds, animals, and insects no longer had homes or ecosystems in which to live.
Parks promote a balance between the human and natural world by protecting space where all can relax and take refuge amongst the trees.
Stewardship
There is a sense of community that comes when a community cares about its parks.
Olmsted had this idea of "Communitiveness", which required persons "to serve others and to be served by others in the most intimate, complete and extended degree imaginable."
In pursuit of communitiveness, a landscape was not just beautiful, it was essential.
Parks and open spaces allowed beleaguered city dwellers to be restored so that they might devote themselves to the welfare of others. They contributed (and actively contribute) to mental and physical health, and by doing so, helped to develop the web of connections that make community possible.
They were, said Olmsted, "the most valuable of all possible forms of public places."
"We want a ground to which people may easily go after their day's work is done, and where they may stroll for an hour, seeing, hearing and feeling nothing of the bustle and jar of the streets, where they shall, in effect, find the city put far away from them."

— Frederick Law Olmsted, 1870
Special Edition Olmsted Watch Raffle
Oak & Oscar is consistently grateful for Frederick Law Olmsted's contribution to our society — one that provided inspiration, framework, and dedication to hundreds of parks around the United States.
The watch we created to honor Olmsted's impact aims to toe the line between refined and functional, with 10 ATM of water resistance and a screw-down crown. And of course, we couldn't create a watch bearing the name of the founder of landscape architecture without making it field-ready.
We're incredibly proud to be a part of his Olmsted 200 celebration to help preserve his legacy and the parks that define our country and urban areas.
Want to contribute and participate in the raffle?