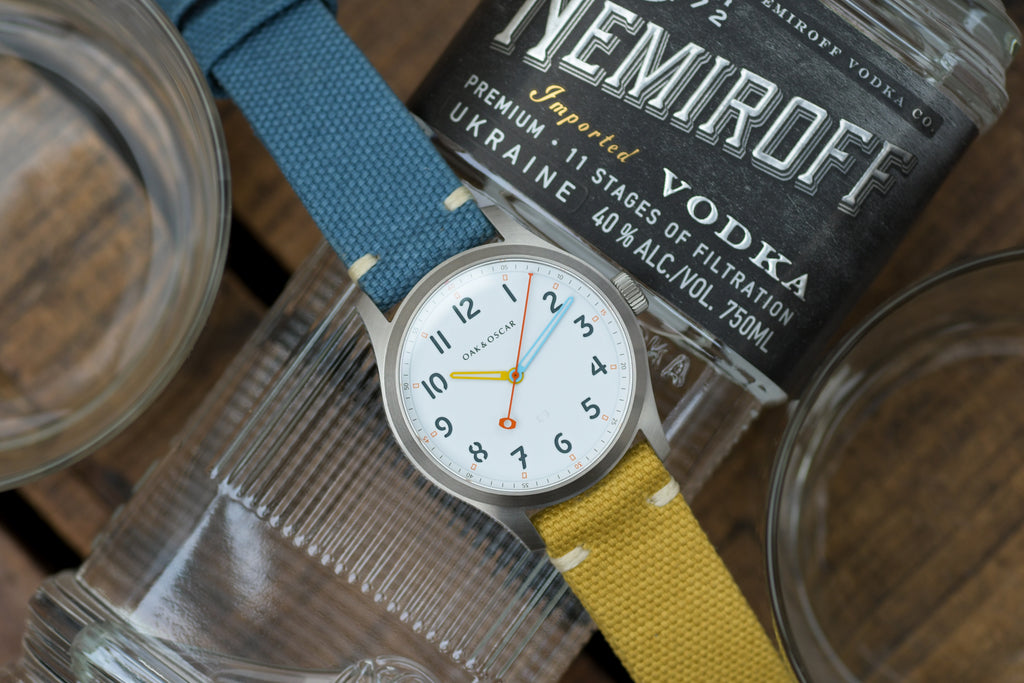 It's not often you'll find us getting political but we couldn't just sit around and do nothing at a time like this. 
Like so many of you, we wanted to fund a way to support the people of Ukraine. As watchmakers, that live thousands of miles away, we weren't really sure what we could do that could actually have an impact. But we know watchmaking and we knew we had to do something.
The Oak & Oscar team got together around 1:30pm on February 28th to brainstorm and come up with ideas. We had blue and yellow canvas straps that we'd not released to the public yet, perfect matches for the Ukrainian flag. We thought maybe we could quickly list them online and donate all the profit—but was that good enough? No.
We'd tested a bunch of different hand colors for the Owners Only Batch Nº2 released in 2021 and found a yellow hand and a blue hand in the prototype bin. We also had some extra white, no-date dials from the same run. 
The ideas starting flowing...and with the team working seamlessly together, we designed, assembled and photographed the watch all within the span of just a couple hours. A one of one, piece unique, Olmsted to help support the people of Ukraine.
We then posted the image on our social media channels and announced the auction to the world. We'd hoped to hit the $4,000 mark and maybe the even $5,000 if that right bidders came along. What we didn't expect, was the amazing support and passion that the #watchfam would bring. 
First bid came in quick: $500 from Mr. James Stacey. A second bid. A third bid. And then we hit $2,000...all within minutes. Whoa. Folks started sharing it in their stories, texts, DM's....it was amazing. 
Throughout the auction week, I received countless emails, texts and DM's voicing support of the watch, the mission and asking how best to bid / help.
Long story short, an anonymous bid of $12,500 was placed just before the auction closed on Friday, March 4th and that was that. Wow. $12,500. Read that again, $12,500 all to help Ukraine. 
We're so inspired by this industry and everyone involved. Thank you. 100% of the money from this auction was donated, today March 8th, to the International Committee of the Red Cross to support their efforts to help fight the growing humanitarian crisis in Ukraine. Yes, 100%.⁠⁠
You know what else is cool? We've helped start a movement (no pun intended). As of the time of writing this blog entry, I know of at least three active watch auctions and know of another ten or so in the works. I cannot wait to see how much money is raised in support of Ukraine.
If you'd like to donate as well, please click here.