Bid on this One-Of-A-Kind Humboldt LaViolette Edition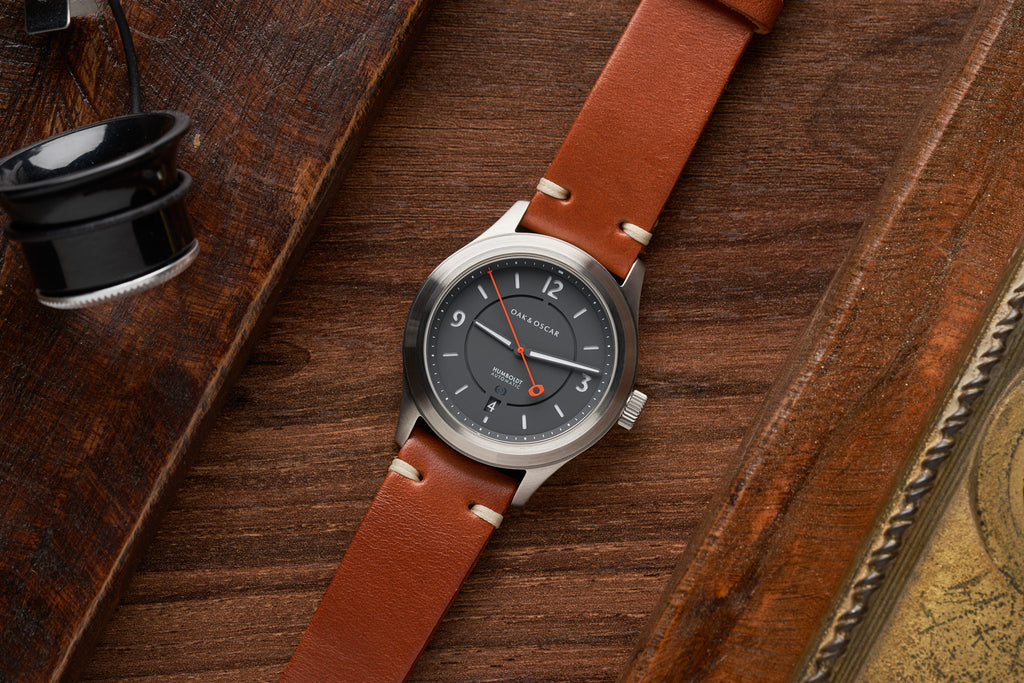 Never did I ever think I'd be typing this sentence, but here we are: 
Oak & Oscar is featured alongside the Pope's watch. 
Pope Francis and Oak & Oscar (and others) are connected by The Brian LaViolette Scholarship Foundation, which is raising funds through the "Once Upon a Time" Watch Project. They've gathered donations from celebrities and watchmakers around the world to sell at auction to fund scholarships for deserving college-bound students. 
Here are just a few of note (outside of ours, of course):
The Brian LaViolette Scholarship Foundation was founded after Brian LaViolette died during a swimming accident when he was 15 years old in 1992. At his funeral, his family made a promise that great things would come in his name and memory. 
In each of the last 30 years, the family, friends, and foundation have accomplished and continue to accomplish their goal: Since 1992, the foundation has presented
1,058 scholarships
to college-bound students in the Green Bay area and beyond.
The "Once Upon a Time" watch project came around after the foundation heard about
Paul Neuman's Rolex Daytona watch sold at auction for $17.8m
. Doug LaViolette, President of the Brian LaViolette Scholarship Foundation, said they saw an opportunity to tap into a unique idea that is representative of one of Brian's passions. 
Brian with his first Green Bay Packer watch, photo courtsey of the Brian LaViolette Foundation
"Brian himself loved watches, he was really passionate about watches," Doug LaViolette said in an interview with WBAY-TV12. "He started wearing his first watch when he was four years old. It was a Green Bay Packer watch, swiss made." 
In his short life, Brian collected 7 watches in total—everything from that original Packers watch, to a classic calculator watch. Doug still wears a classic Casio that once wrapped Brian's wrist. 
When we were asked to participate, we immediately started searching through the archives to find something unique that we could offer for such an interesting cause. We went handmade. 
After bouncing around a few ideas, we opened up the archives and created a prototype based on our now-retired Humboldt 12-HR. Nathan hand-turned a fixed stainless steel bezel, giving this Humboldt a classic and understated look.
That's only half of it. Engraved on the caseback is Brian's quote that leads the foundation: "The Journey is the Reward". The watch is also marked with "1/1", as it's the only one we've made and the only one that will be made. 
The watch is presented with a waxed canvas watch wallet, multiple strap options (including a dark green and gold canvas strap, nodding to Brian's first Green Bay Packer watch), and a strap-changing tool. 
100% of the proceeds from this sale go to the Brian LaViolette Scholarship Foundation. 
Update: the one-of-a-kind Humboldt LaViolette Edition sold for $6,250 (with buyer's fees)! Read more.
We at Oak & Oscar are incredibly honored to be included in this great project. The fact that we are able to contribute to Brian's memory and legacy while providing contributions to the scholarships is incredibly humbling. We hope you take part with us. 
Bid on this unique Oak & Oscar Humboldt watch HERE
View all available "Once Upon a Time" watches HERE