LaViolette Edition Humboldt Sells for $6,250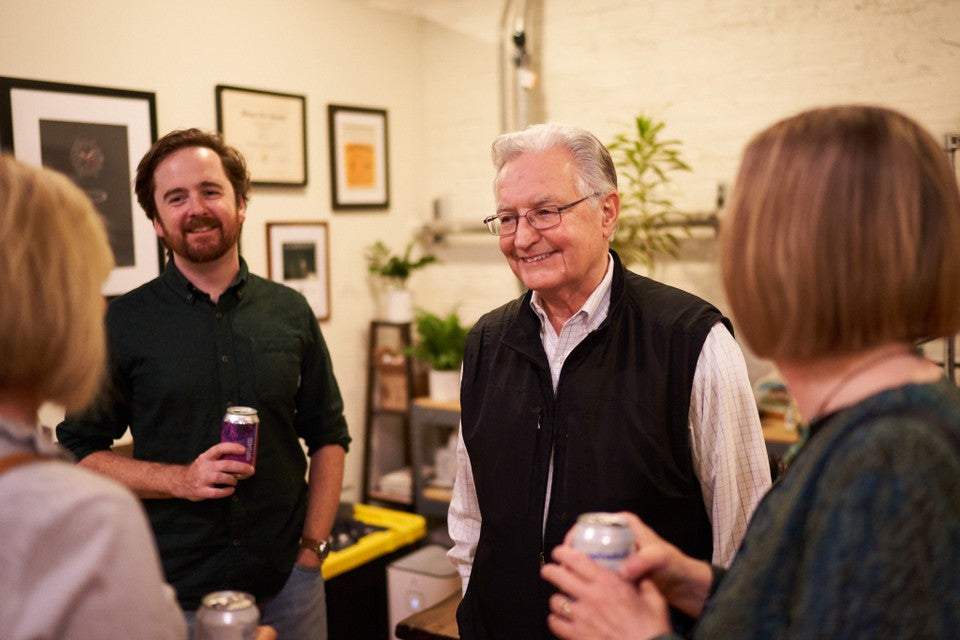 On November 30th, the night the auction closed, foundation members, donors, and others gathered together at Oak & Oscar HQ to watch donations roll in Brian LaViolette Scholarship Foundation's "Once Upon a Time" Watch Project Auction. 
Included amongst a star-studded cast of donated watches, mostly watches that once belonged to stars of sport and stage (but most notably the Pope's Swatch?), was a literal one-of-a-kind Humboldt LaViolette Edition. 
We not only wanted to bring the Humboldt 12-HR out of retirement for this auction, but we wanted to do something extra special. Nathan, our Director of Watchmaking, hand-turned a fixed stainless steel bezel to give the Humboldt a classic, understated, and unique look. On the back, Nathan engraved Brian's words on the back—"The Journey is the Reward"—as well as a "1/1" to designate that the watch is the only of its kind. The watch was presented with a waxed canvas watch wallet, multiple strap options (including a dark green and gold canvas strap, nodding to Brian's first Green Bay Packer watch), and a strap-changing tool. 
And when the hammer fell, we all watched as the number reached $5,000 ($6,250 with buyer's fees) all going directly to helping deserving students with their higher education in Brian's name.
In the end, the auction raised a staggering $144,418. 
And yes, the Swatch donated by His Holiness Pope Francis was the top bid at $56,250. 
The Brian LaViolette Scholarship Foundation was founded after Brian LaViolette died during a swimming accident when he was 15 years old in 1992. At his funeral, his family made a promise that great things would come in his name and memory. Since 1992, they've helped to send over 1,000 deserving students to college through scholarships, and with the success of this project, they'll ensure that help continues in the years to come.  
As mentioned in a previous blog post, we could not be more proud to be included in this auction and cause. Thank you to the foundation for including us, all of our fellow donors for your contributions, and everyone who participated and/or bid on these watches.
Learn more about the
Brian LaViolette Scholarship Foundation
and the
Once Upon a Time Watch Project
.