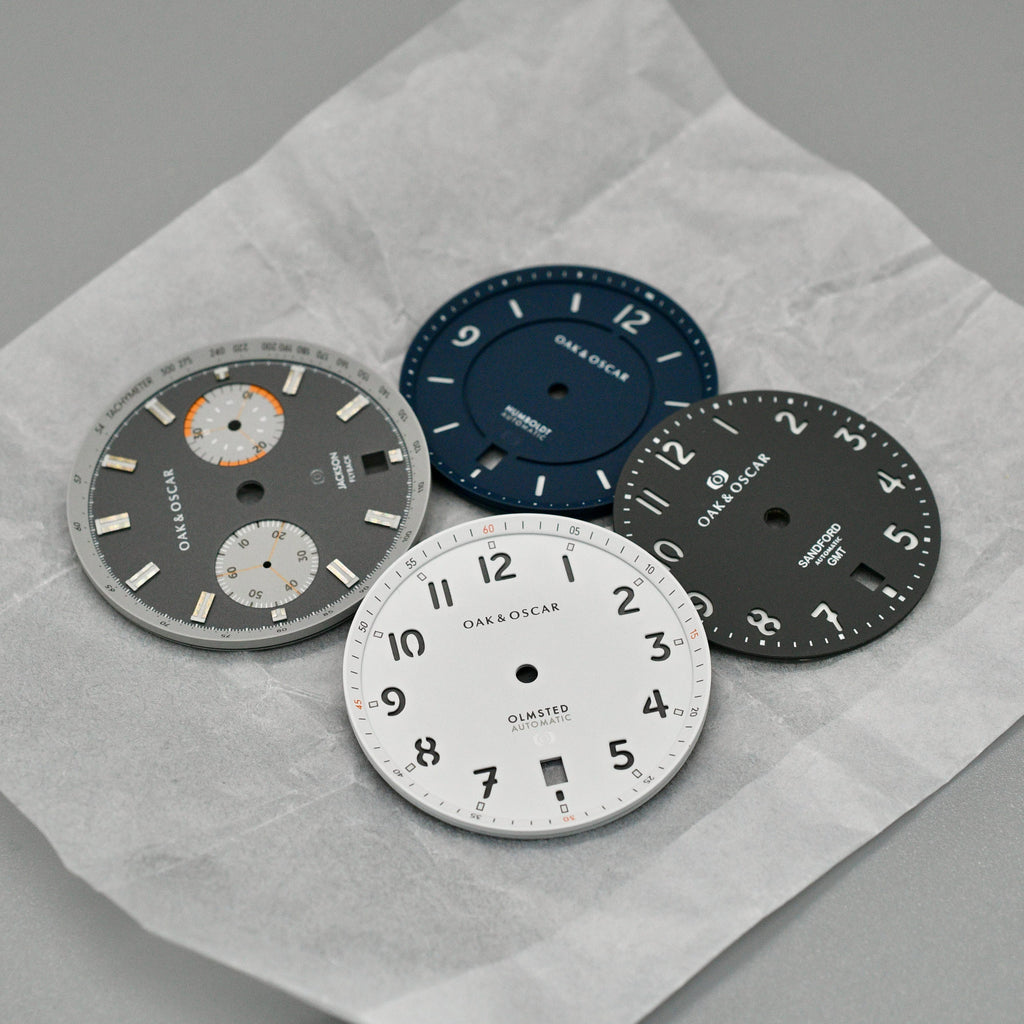 A watch's dial defines a big part of a timepiece's personality, and there are a few ways to design them. A hallmark of Oak & Oscar watches is our use of the sandwich dial.

Typical dials are simple metal discs with holes for the hands, paint on one side and dial feet on the other.
More complicated dials use "applied indices," which are little metal markers that mount to the top side of the dial with tiny posts.
Our Jackson chronograph used this kind of dial. The raised metal markers provide an architectural link to the complex 3D shape of the column-wheel chronograph on the movement side.
Sandwich dials do the opposite—dial marks are cut out of the dial and use negative space to indicate the hours. You'll find this kind of dial on most of our watches, from the original Burnham to the Sandford and Ashland to today's Olmsted and Humboldt. This method can be even more complicated than making dials with applied indices due to the intricate angles, machining tolerances and design constraints.

What gives the sandwich dial its funny name? Let's take one apart to find out.
A sandwich dial is just that—two or more stacked layers of metal that provide a subtle 3D design without additional height or complexity. While on a traditional dial, lume is applied to the upper surfaces, sandwich dials carry lume on the lower surface.
Here you can see the lower dial. The back side carries dial feet which hold it against the movement, and the front side contains the lume (and adhesive to keep it all flat).
The top side of the dial features cutouts for the hour markers, which allow the lume to shine through the apertures. This dial also has "feet" of sorts, but they exist to precisely align with the lower disc and to hold it in place.
Our sandwich dials also include a raised rehaut, or flange, which typically holds the printing for the minute track. While the rehaut isn't technically a part of the sandwich dial, it still attaches with locating posts; If we're going to torture the sandwich metaphor further, let's consider it the pickle on top, with the posts as the toothpicks!
All together, the sandwich dial allows for a flat, yet 3-dimensional design. The subtle architecture allows for depth and complexity without ornamentation, perfect for watches like our sold-out Olmsted Matte.

So what's next for Oak & Oscar? Well, it depends on the design and personality of the watch, and we're always looking at new and exciting shapes and processes. But don't worry, sandwich fans—they're the bread and butter of our lineup, and they aren't going anywhere!