RESTOCKED: Leather Watch Straps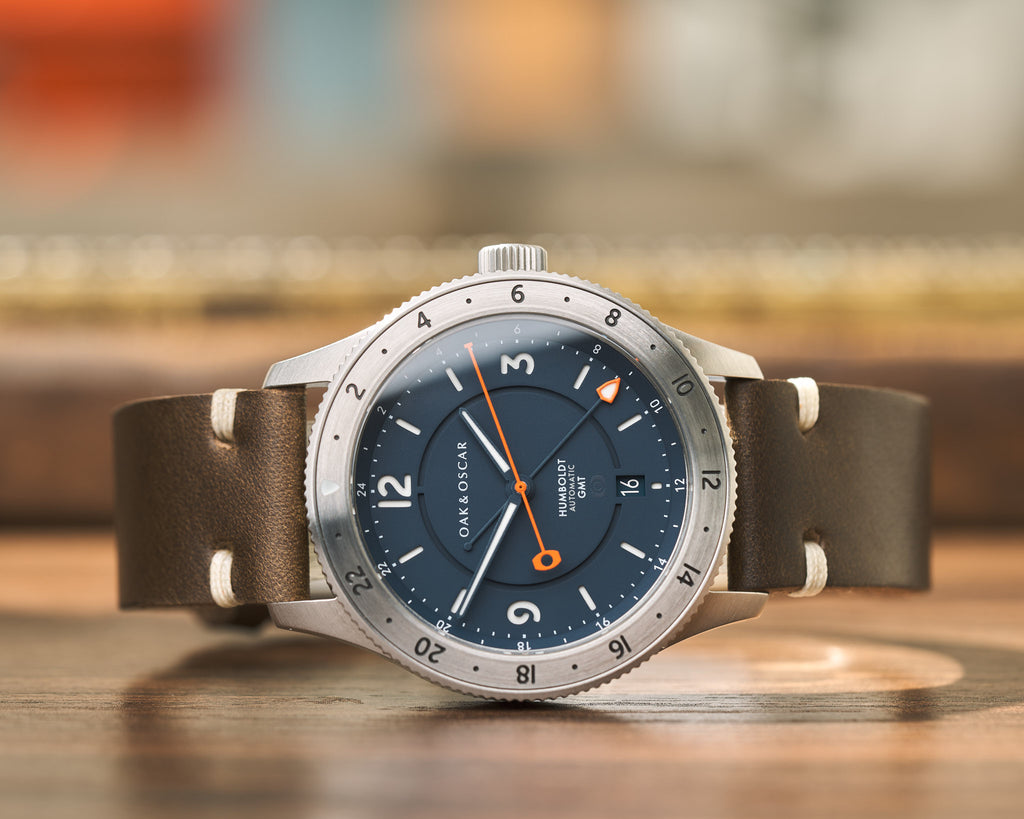 We're excited to announce that we've restocked our leather watch straps! 
We hand pick our leather from the Horween Leather Company, America's oldest and best tannery, and work with local expert leather artisans to make our rugged-yet-comfortable watch straps worthy of being attached to an Oak & Oscar watch. 
Each 20mm strap is tapered and includes an 18mm stainless steel buckle with a tang that is engineered to sit level with the buckle. The buckle is signed on both the top and bottom and has a grooved channel on the underside to allow the leather strap to sit more flush and comfortably on the wrist.
These leather straps are hand-sewn and crafted with care and intention with a focus on durability and timelessness, and will develop their own unique patina over time. They'll develop their own unique patina over time, and — possibly most importantly — they'll hold up to whatever adventures life throws at you.
We've restocked a variety of colors and added a few new ones, from simple neutral to bright statement pieces:
Light Tan
This might be one of the most versatile straps we make. The light suede strap gives every watch an instant "vintage" feel, only getting better as it wears in and develops a unique patina.
Dark Brown
A beautiful dark brown strap that will instantly feel like it was always meant to be on your wrist. This strap pairs beautifully with our white dial timepieces, and pulls the deeper colors from our green and navy dials.
British Green
The international racing color of the United Kingdom, the British Green watch strap pairs perfectly with our neutral white, grey, and black dials to provide an understated depth and eye-catching quality.
Sage Green
We're in love with this strap. We found this hide on the back racks at Horween and absolutely knew we had to make something out of it. The sage green strap has vintage vibes, from the earthy green tones to the thinner hide. This strap is an ideal combination with any of watches—it compliments the dial color without overpowering. And if you're feeling the tone-on-tone vibes, this strap is perfect with our green dial watches.
Dark Olive Green
The rich, deep shade of dark olive brings a touch of distinction to your wrist, effortlessly blending with any outfit or occasion. Its unique color adds a subtle yet captivating allure, making it a versatile choice for both more formal events and casual outings.
Green Suede
Looking for something that makes a statement? Try the green suede watch strap, that not only provides a pop of color but also a depth of texture that only suede can accomplish.
Navy Blue
The deep, rich navy blue leather strap adds refinement and depth to any dial color, but it looks amazing paired with our white dial watches and compliments our navy dials perfectly. This strap will age and develop its own unique patina.
Our leather watch straps have a habit of selling out fast, especially the tan and brown straps. Make sure to grab one if you've been waiting to add to your watch strap collection!