Owners Spotlight: Meet Paul M.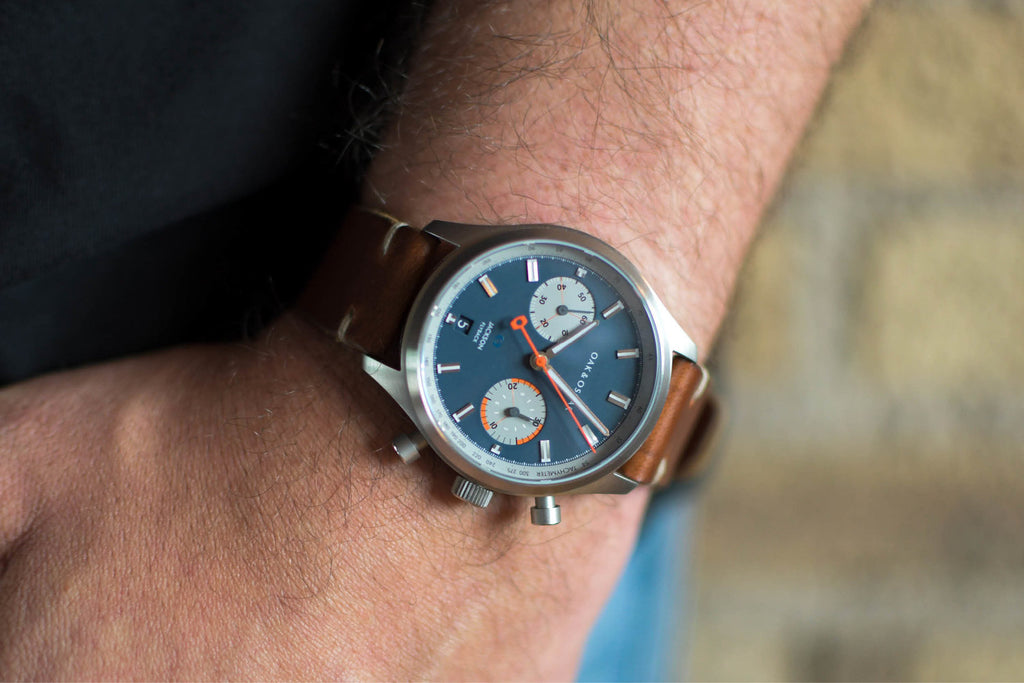 MASTERING A PASSION FOR SOUND & DESIGN
Paul is an expert in high-end audio components that make up some of the best sound systems in the world. Grounded in a passion for playing music, he has built a career founded on his passion for sound and design.
AT A GLANCE
Favorite watch complication
Time only, big date

First watch
Nomos Tangente 35mm

Oak & Oscar timepiece
Jackson Flyback Chronograph

Current occupation
US Sales Manager for a Danish multinational audio company

Favorite travel destination
Copenhagen. I've been there so many times that now it feels like home.
TELL US ABOUT YOUR BACKGROUND. WHERE DID YOU GROW UP? WHERE DO YOU LIVE NOW?
I'm from Dallas. I went to college at the University of Missouri. And now I live in Chicago, not too far from the Oak & Oscar HQ.
 
WHAT DO YOU DO FOR FUN? ANY HIDDEN TALENTS OR HOBBIES?
I played bass in a local Chicago band, The Vindits, for about six years. I played bass for a number of years before that and had been involved in music since piano lessons back in the first grade, so it's cool that I have bass guitar and other music companies as my clients now. I'm interested in audio from the live performance standpoint and while I do appreciate good sound in a personal setting, I'm interested in how you can integrate that (audio) into your life. 
 
WHAT DREW YOU TO WORKING IN YOUR FIELD?
I've been involved in technology sales since I got my first job. It was on a more basic component level, but I worked with companies like Motorola, Apple, Research in Motion, and Dell.  That led me to working with more complicated components. Now I get to work with technical companies specifically in the audio industry, so it kind of combines my background of technology interests with my hobby of being a bass player.
 
WHAT GETS YOU UP IN THE MORNING?
I'm just motivated by trying to get done what I know needs to get done. I'm trying to make sure I have all my bases covered.

WHAT DO YOU BELIEVE IT TAKES TO SUCCEED IN A CAREER? IN LIFE?
Honestly, I think it's trying to know about what you're doing as much as possible while also understanding your own limitations. If you want to work towards changing your limitations, that's great. But to do that you have to at least acknowledge your limitations as a first step.
 
DO YOU HAVE A MENTOR OR INFLUENTIAL PERSON IN YOUR LIFE?
My first boss. I know when he was hired he was given a catalog and was told to, "Go get em". He managed through it, but he knew that wasn't a successful way to actually learn the business. So he made sure I was trained and on-boarded with a much better process. He hired me as somebody with no actual experience because he liked my technological understanding of the consumer electronics segment at the time. He saw something in me. 

WHY DO YOU WEAR A WATCH?
I think it's good to have an appreciation of where we come from. I work in technology sales and have for my entire professional life, but I definitely feel it's a way to ground yourself to how things have been in the past. I also am into design in general, and I think watches are one of the places where iconic designs have happened and continue to live on. It's a place where I think a lot of interesting design principles have been put into place and I appreciate things that jive with my aesthetic.
 
WHAT DO YOU THINK MAKES GOOD DESIGN?
Obviously, design is personal. I prefer to live in a place where design is somewhat timeless. Certain things date themselves and certain things can be of a time, but at the same time there are some design principles that I think will carry on. I look for things that will carry well into the future. One of the things I like about Oak & Oscar designs is that if you dropped an Oak & Oscar design in the 60's, it wouldn't look like something completely unrelated.
 
WHAT DREW YOU TO OAK & OSCAR?
I saw an article in Hodinkee for the Burnham and noticed that they were a Chicago brand. It was right around the time that my own interests in watches started to significantly grow. Also, there was the mention that they were donating some of the proceeds to One Tail at a Time, which is an organization that my wife volunteers for and where we got one of our dogs. And, mostly I just really liked the design language.
PAUL'S WATCH
Jackson Flyback Chronograph