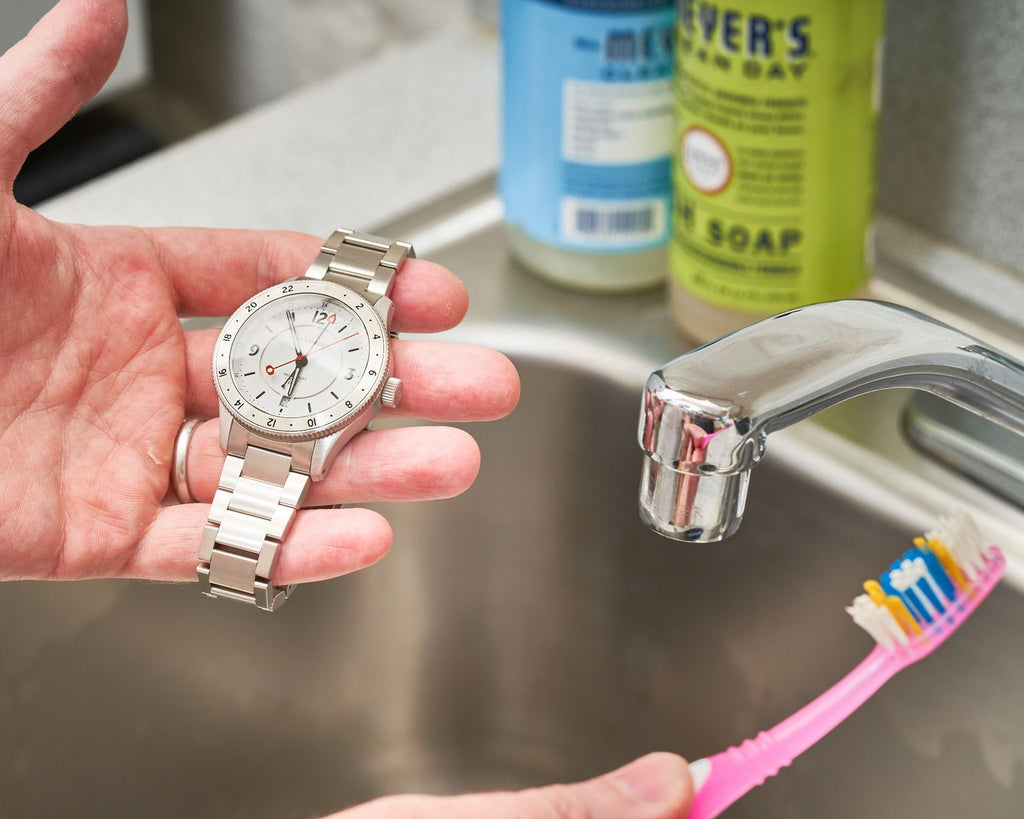 There's a particular service request that comes in during summer more than any other season: sticky bezels.

Whether it's the original Humboldt 12-HR, the Humboldt GMT or our limited edition Ashland, all externally rotating bezels can get a little bit sticky when exposed to the elements and aerosols.

Summer is particularly prone to gumming up bezels because of sunscreen and bug spray. Aerosols can really easily wick beneath the bezel, and the chemicals that keep UV rays and mosquitoes away tend to be pretty sticky. It's nothing to be worried about, and luckily, it's something you can fix yourself at home.
All you need is a spare toothbrush, some dish soap, and a sink. Optionally you can have a Witschi Proofmaster water resistance tester and its associated air compressor, but those can cost upwards of $10,000 so they're not required for home use.

We're going to be scrubbing your watch under running water, so it's good to make sure that it's water-resistant. That said, the Humboldts and Ashland are extremely robust, and their water resistance is very high, so if you're already wearing your watch into the ocean, lakes, and pool, feel free to skip ahead.
Now, if you have a water resistance tester, this is easy—pop it in and run the test. If you don't, and I'm guessing you don't, I suggest taking your watch to a local watchmaker and just see if they can test it for you.

I recommend that everyone regularly gets their watches checked for water resistance, by the way. Watchmakers or jewelry stores will often do a quick test for you while you wait, usually for free. It's a nice way to connect with your local watchmaking community! And of course if you're local to Chicago, you can make an appointment on our website to come in for a quick test and see the shop.

With that out of the way, let's go to the sink.
It's pretty easy to clean the bezel. Put a bit of dish soap on your (spare!) toothbrush, run some warm water, and start scrubbing around the outside edge of the bezel. Once you've scrubbed all the way around, turn the bezel back and forth at least 90 degrees to get some of the soapy water under the bezel itself.
Repeat this process a few times, scrubbing the upper gap around the edge of the crystal and the lower gap around the circumference of the bezel alternately, turning and rinsing the bezel constantly. Do this for 30-60 seconds, or until you feel the bezel get less sticky and start to turn normally.
Keep rinsing for another 20-30 seconds, while continuing to turn the bezel. We want to get the soap out of there, since it can get sticky when it dries too!
Once the watch is thoroughly rinsed, grab a clean paper towel and dry it off. Pat the watch dry and firmly press the paper towel against the gaps on the sides and top of the bezel to wick any water out.

That's it! Rinse and repeat as needed, as the saying goes. This should clear up the majority of cases, but the grease can eventually dry up and wear out. If your bezel doesn't get loose after a nice scrub or two, please get in touch with us about a case service. After all, we do have that fancy pressure tester, so we can make sure everything is re-lubricated and back in spec for the rest of the year.

And remember: wear your sunscreen!