Built to Discover—Owner's Stories: Mike J.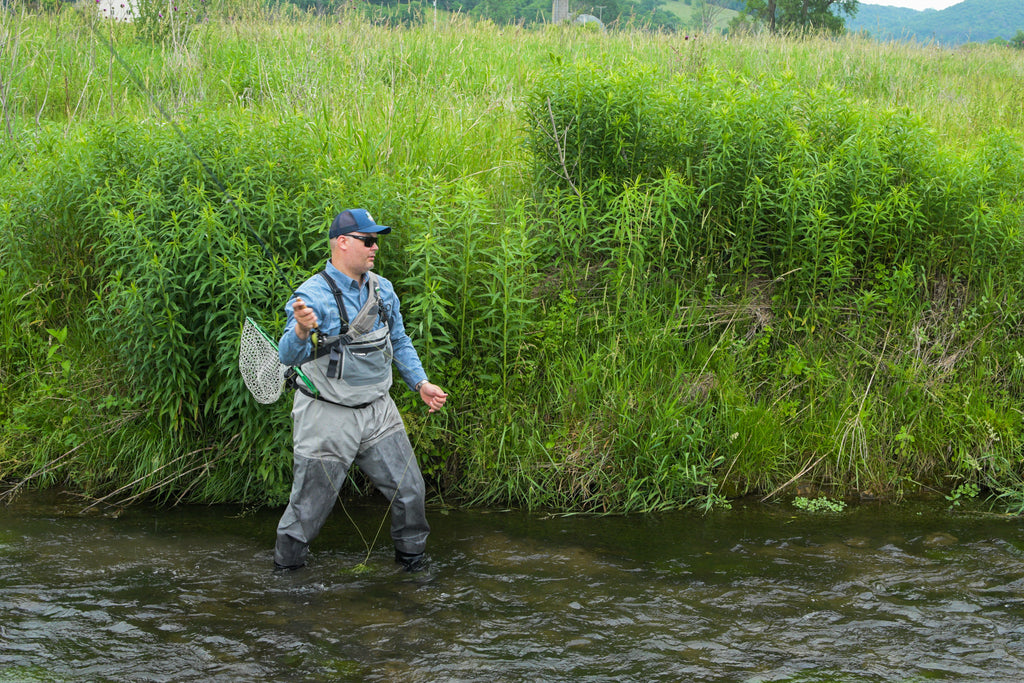 Super fun things are happening around here—one I'm so excited about that I'm launching it before we even have a name for it or a proper place to go on our website! Sometimes, ya just gotta run before you walk...
We're gonna start introducing a new series around here at the HQ: "Built To Discover: Owner's Stories." A working title, yes, but one that really explains what we're doing.
Our Owners, the folks who own our watches, are some of the most interesting people that I've ever been honored to meet. The community that we've created together is one full of folks curious about the world, people who are experts in their fields and always in the pursuit of knowledge. I want to start sharing those stories with you. We'll mix things up a bit—some will have video and some will be more of a photojournalistic essay. All will be awesome. So here we go.
Meet Mike J. 
Mike is an even-natured, Wisconsin-loving, fly fishing, coffee drinkin' dad who currently lives in Minnesota. He's finishing up his medical residency and between patients and dad-duty you'll find him in the cold spring-fed streams of the Driftless Area. The Driftless, as it's called by those in the know, is an area along the Wisconsin / Iowa / Minnesota border that the glaciers just plain forgot during the last ice age. The terrain is unlike anything else in the Midwest—there are steep ridges, long river valleys, and numerous natural waterways beloved by trout and fishermen alike. 
Mike's also the type of guy to invite me (Chase) along with a couple other novice fishermen (hi Nathan and Steven!) up north and patiently help us learn how to cast, set up the presentation just right, and tame just about any line tangle. 
The experience was nothing short of incredible—spending time on the trout stream and in the woods, sipping whiskey, talking watches, and bonding (and commiserating) over what we managed to catch. Definitely check out the video posted just above for a some inspiring images of beautiful scenery, and to hear more about why Mike loves fly fishing. Yes, we interviewed him while he was knee deep in water. Naturally.
It was a short trip—Nathan and I left Chicago around 8:00am and met up with Steven in Milwaukee a couple hours after that. We caravanned up to the Driftless Area where we met Mike at his cabin. It was midday on a very sunny hot day, I believe around 90 degrees without a cloud in the sky. Believe it or not, it was too hot to fish. Not for us, but for the fish. If the water temperature gets too warm, over 65 degrees, they get a little stressed out. Add in relative giants wading around in the streams pulling you out of the water into the hot air and well, catch and release doesn't really work so well.
So, instead we made lunch and did some dry casting out on the front yard with Mike as our ever-patient guide. He showed us how to put the rods together (they come in 4 pieces in case you didn't know...) and then how to attach the reel to the rod. And the trickiest of them all, we learned how to properly get the fly line installed, attach a leader, and even tie on some flies. 
The day got cooler and after multiple sniper-like strikes at the grass with our newly tied flies, we started to feel more confident in our skills. Cocky even. So we packed up Mike's car and headed for the water.
We got suited up, picked our flies, and were off again into the cold water of the Driftless. 
We were out on the water for hours learning more about fly fishing, how to fish, and of course about each other. Spending time with friends, who just happen to all be watch guys, and enjoying nature was the real goal of this trip. Getting a guided tour and advice from a 30-year fly fishing veteran was just the icing on the cake. 
It's always amazingly rewarding for us to see where Owners take their Oak & Oscar watches. And nothing beats actually joining these folks in their element, doing what they love and being a part of their adventure. At the end of the day, it's why we do what we do.
Watches are more than a way to tell time. They can represent and celebrate so many different parts of life: the birth of a child, a new job, an adventure, connection to a loved one, or even just simply an appreciation of the material object itself.
We asked Mike why he wore a watch and he said, "I use my watch as a tool each and every day...watches are [also] objects of great emotional importance for me, they are almost a part of the people who wore them." Watches remind him of his father, to whom he always turned for advice and who was a role model that helped shape his work ethic. 

Folks like Mike love the Humboldt because it's rugged, water-resistant, and built to discover. Inspired by Alexander von Humboldt, an 18th century explorer who spent his life traveling the world in the pursuit of knowledge, this is a watch for adventurers. Its functional versatility means you can take it with you wherever you go.