Owners Spotlight: Meet Michael S.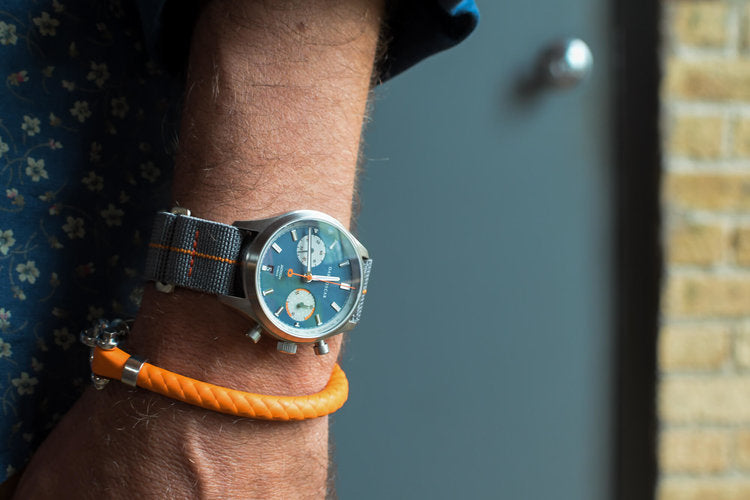 FINDING BALANCE IN EVERY CORNER OF THE WORLD
With a passion for mathematics and chemistry, Michael is a Chemical Engineer with a fascinating job working with software and services that support the Industrial Internet of Things. An avid world traveler, he brings his passion for finding balance in life into every corner of the world.
AT A GLANCE
Favorite watch complication
World Timer/GMT

First watch
Seiko 5

Oak & Oscar timepiece(s)
Jackson Flyback Chronograph
Sandford GMT (in Charcoal PVD)
Burnham Date

Current occupation
Chemical Engineer

Favorite travel destination
Barcelona, Spain
TELL US ABOUT YOUR BACKGROUND. WHERE DID YOU GROW UP? WHERE DO YOU LIVE NOW?
For the past 25 years or so, Houston has been my home. Prior to that, my family moved around a bit with my father's career in oil and gas taking us from Delaware to Saudi Arabia. My high school years were spent in Connecticut at boarding school, and then off to the University of Texas and the University of Houston where I got my undergrad and masters, respectively. Landing in Houston during my masters program, I worked in the chemicals industry which lead me to my long-term career in oil and gas, where I am now. For the past ten years, I have been in oil and gas software and services to support the Industrial Internet of Things. It's really cool and challenging role trying to marry high tech with what is sometimes a slower-to-adapt industry.
I have a beautiful wife (Cindy) and two great sons (Avery, 21 and Bradley, 16). 
 
WHAT DO YOU DO FOR FUN? ANY HIDDEN TALENTS OR HOBBIES?
I like to keep very active; working out, playing tennis and squash, hiking, and generally just staying fit. My wife and I love to travel and often work our trips around outdoor activities. Among one of our travel rituals is to bring along Busby, our stuffed bumble bee who accompanies us and posts to his Facebook page @BusbyTheBee. Of course, my affection for watches is a huge part of my life and especially when I travel. I love to really think about matching the perfect watch to our destination and activities; showcasing all the adventures on my Instagram page @Houston_Watchaholic.
 
WHAT DREW YOU TO WORKING IN YOUR FIELD?
Following in my father's footsteps, I too am a Chemical Engineer. Even at an early age I was drawn to both mathematics and chemistry. Chemical Engineering is perhaps the most versatile engineering discipline and has allowed me to work on many interesting projects and not to mention the opportunity to travel to some truly amazing places around the globe. Interestingly, my oldest son is in his final year at Purdue University where he is pursuing a degree in Chemical Engineering. I guess it runs in the family.

 
WHAT GETS YOU UP IN THE MORNING?
Well, realistically it's usually our dog (Oliver) and cat (Winston) jumping on the bed at 5:30 am. After that, it's the drive for a well-balanced life. I work to provide a good life for me and my family, while making sure I keep active and healthy, spend time with family and friends, and just generally enjoy life. Cindy and I spend a lot of time with friends traveling, participating in supper clubs, going to the theater and so many great activities. Being of a certain age, I also focus a lot on staying healthy so I can retire and enjoy my best years.

WHAT DO YOU BELIEVE IT TAKES TO SUCCEED IN A CAREER? IN LIFE?
As I mentioned before, I think balance is the key ingredient. I see too many people who get consumed with one aspect of their life; like work, finances, possessions and such. I think it's important to bring balance and perspective to all aspects of one's life and not focus on one area. Yes it's important for me to work, but I will not make it my only focus and I want to also have a good life outside of work. One day work will not be there and I want to maintain a healthy lifestyle inside and out.
Also, as the pace of social and industrial change is at an unprecedented level, I believe there are critical skills beyond your typical education and technical know-how. I'm talking about critical thinking, problem-solving, digital fluency, intercultural understanding… basically acknowledging what's going on around us and adapting to the change… being open to change.
 
DO YOU HAVE A MENTOR OR INFLUENTIAL PERSON IN YOUR LIFE?
I would say my father has had a big impact as to who I am today. Not only did he influence my career choice, but he also piqued my interest in watches and my love of travel. One of my earliest memories of him is with his early 70's Rolex Datejust 1603, which he still has today.

WHY DO YOU WEAR A WATCH?
I'm an engineer to the core, appreciating the mechanics of a good timepiece. Also, there are so few ways that men can visually express something about themselves and I feel the choice of wristwatch says a lot about a person. I enjoy pairing my watch to my mood, activity, clothing and such; bringing in color and texture, too.
 
WHAT DREW YOU TO OAK & OSCAR?
I remember searching for travel watch wallets on the internet and coming across the first generation wallet from Oak & Oscar, but since it was not sold separately, I moved on. A couple of months later I got a closer look at the Burnham sandwich dial and orange accents (my fav color) and I was hooked. Since then I have acquired both the Sandford and Jackson. Another cool aspect that I really like is the ability to choose the serial number associated with the watch. I have matched the numbers to significant dates and it adds a sentimental touch.
MICHAEL'S NEWEST OAK & OSCAR
Jackson Flyback Chronograph