Oak & Oscar Releases No Date Option of the Olmsted 38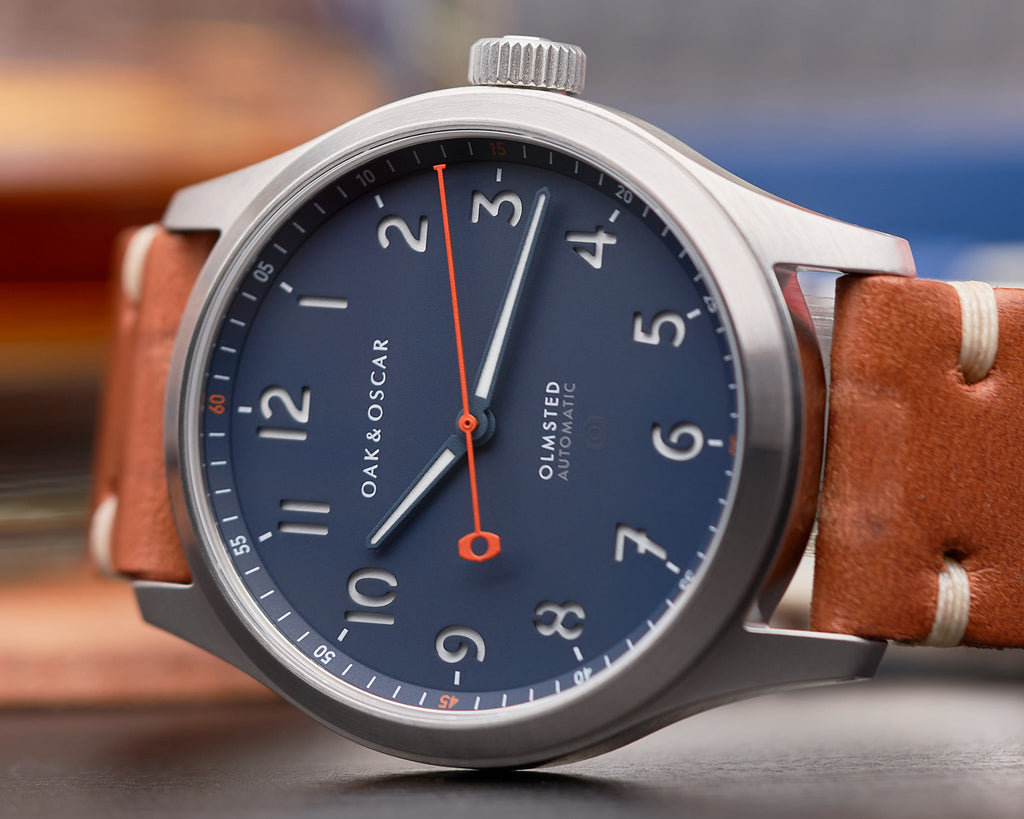 The Olmsted, Oak & Oscar's adventure-ready 38mm field watch has been a staple in the Oak & Oscar lineup since its release in 2019. It's been one of our best sellers and a watch that we're confident will become a classic.
There seem to be two types of folks out there. On one side, the Olmsted is perfect as is. The other side hates having a date window. So, for y'all purists out there, we just made the perfect Olmsted for you. Yup, we're super proud to introduce the Olmsted No Date. That big beautiful cutout number 6 is right where it belongs. And you know we did it the right way too—there's no phantom date jump or crown position!
Introducing: The Olmsted 38 No Date
If you place a high value on symmetry and balance, the Olmsted No Date is your watch. The time only design makes this timepiece a true purist's field watch. Our iconic full-numeral sandwich dial with orange-accented cardinal minute indicators just got that much cleaner. Who knew a simple "6" could add so much?
What We Like about the Olmsted No Date 
There is nothing like a clean, no date watch dial. The symmetry. The balance. The simplicity! Don't get us wrong; we love a good date window, but for some people, not having a date window is a way of life. 
We just like it because it's damn sexy. 
When you remove the date complication, you return to the roots of watchmaking — a simple "three hander" that tells time and does a darn good job at it. 
The Olmsted No Date is ready for purchase today on our Olmsted page. It is available in White, Grey, Navy, and Green with the options of Horween Leather and Stainless Steel Bracelet. The watch performs exactly like the original Olmsted, with 10atm of water resistance (100m/330ft.), a screw-down crown, and a finely brushed 316L stainless steel case with drilled lugs. The perfect dimensions and wearability of the piece remain at 38mm in diameter, 45mm lug to lug, and just 10.9mm thick. And of course, no phantom date changes or crown position because we do things the right way.
Our Owners and newsletter subscribers always hear about our watch releases first! Make sure and subscribe to our newsletter if you haven't already for updates, events, and new product releases.