Introducing, the Jackson Big Eye!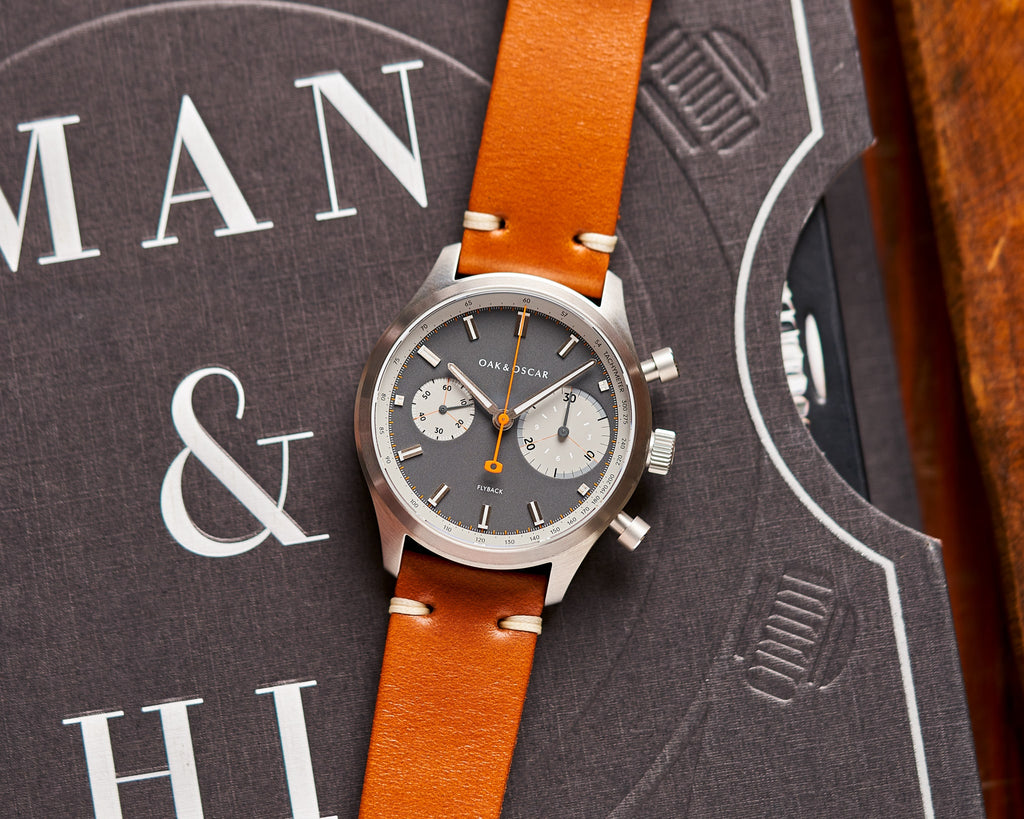 Asymmetrical in all the right ways
Introducing the Jackson Big Eye
We're excited to announce the release of the latest edition to our collection, the Jackson Big Eye.
The Jackson Big Eye is a classically quirky chronograph driven by the beautiful and manually wound, Swiss-made EMC 3907M with a 60 hour power reserve, column wheel, flyback reset and a stacked register at 3 o'clock that tracks both minutes and hours. The Jackson Big Eye is limited to only 50 pieces and is our first publicly available chronograph without a date.
The charm of a Big Eye chronograph can't be ignored. The asymmetrical design harkens back to funky dialed chronographs of the 1960's and '70's. The type of watch often worn by racing drivers as they tore around the track in cars with big engines, small brakes, and a motley crew of friends waiting in the pit lane—fresh fuel and new tires for the car and a beverage for the driver (which wasn't always water).
The design of our Big Eye is striking—its orange accents around the minute track and charming asymmetrical face make this limited edition timepiece unique. Typically, "big-eye" chronographs either sacrifice the hour counter or they crowd the dial. With the stacked registers of the EMC 3907M movement, you don't lose any functionality—in fact, the increased size of the hands on the 3 o'clock subdial makes them easier than ever to read. The vintage charm and simplicity of two subdials without the clutter and busyness of three subdials. We've even removed the date for a cleaner, more focused design.
With a 60-hour power reserve, ability to track minutes and hours on a single subdial and a column wheel actuation with a flyback reset, the Swiss-made EMC 3907M that powers the Jackson Big Eye is a technologically advanced movement that blends both engineering genius and art. The lucky Owners of this timepiece can witness the complexity and beauty of this movement through the sapphire display back.
Each watch is hand-assembled, tested and regulated at our Chicago headquarters by our head in-house watchmaker and Director of Watchmaking, Nathan.