IN THE NEWS: Hodinkee Highlights Oak & Oscar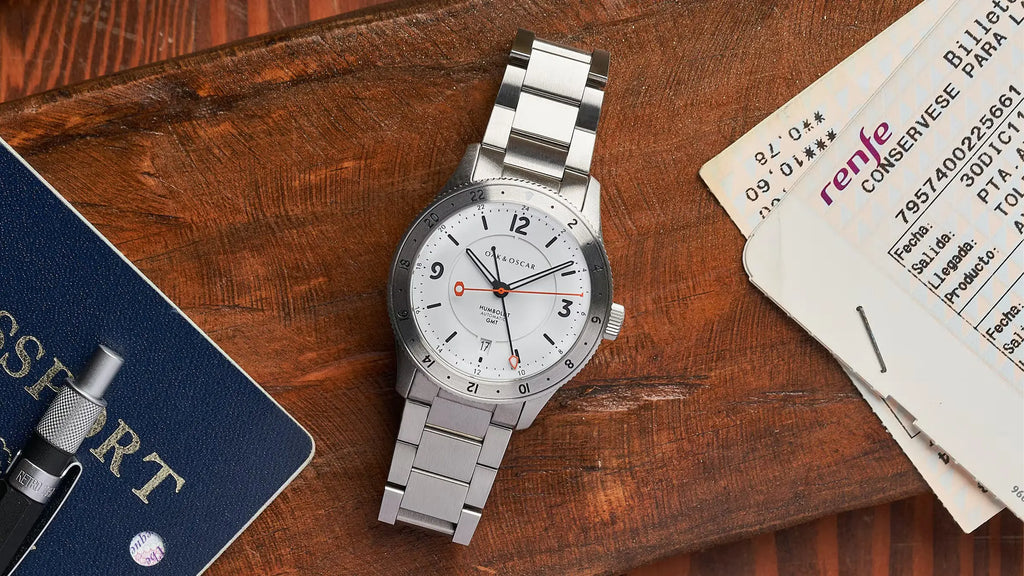 The watch community's premier media outlet Hodinkee wrote a profile on Oak & Oscar's journey over the past 7 years. And boy, are we excited about it.   
"Fancher has built a business that's here for the long run. I found no marketing pretense or trend-chasing bullshit when I visited the brand's Chicago HQ – Oak & Oscar, I can feel confident in saying, is here to stay."
In this story, watch industry veteran Logan Baker walks through Oak & Oscar's history — from Fancher's departure from the commercial real estate industry to Oak & Oscar's founding in 2015 and the first watches released to the market. Fancher and Baker met in 2017 over coffee in Manhattan, resulting in this question-and-answer story posted on Watch Time's blog in November 2017. The post catches Chase after showing Oak & Oscar at a series of independent watch brand fairs, just after the release of the Jackson Flyback Chronograph. 
As Baker notes: the Oak & Oscar brand has come a long way since then. 
"Part of what I view as my job at Hodinkee is to filter through much of the BS that's out there and highlight only the best, most interesting watches and brands that will stand the test of time. I had a feeling when I first met Fancher that he was on that path, and I'm only even more confident of it today."
The success of the brand is clear with each of the releases that followed: The Humboldt (12 hr and GMT), and the Olmsted 38 to name a few. 
But the next indicator of the brand's success, to Baker, is the team that has grown around Fancher over the past few years. 
"I've already talked up Fancher enough, but he's recently brought on a pair of team members that each speak volumes about the character and direction of the business."
That's right, our Oak & Oscar team of bourbon-swilling, watch-obsessed experts make sure our watches make it from the benches in Switzerland to your wrist in perfect condition—and when it's time for a service, they handle everything in-house!
"What I was most impressed with, I have to say, is [Director of Watchmaking Nathan] Bobinchak's workspace, an unpretentious clean room where he handles all of Oak & Oscar's in-house watchmaking. Bobinchak assembles watches here. He mills certain components on a vintage Derbyshire Elect lathe that previously maintained timepieces at the U.S. Naval Observatory…it's not a cheap thing to do at all, and it represents a significant investment in the future of the company."
Baker also noted that he purchased a Humbold GMT and named it the watch he's wearing this summer. During a road trip across the United States, he stopped by Oak & Oscar HQ before heading south toward Nashville.
"The Humboldt GMT was honestly a great travel partner – it was comfortable, casual, and it made me feel good to wear it around. It has definitely ended up being one of my favorite recent watch purchases, and I'll always have good memories of wearing it while exploring new cities and meeting up with old friends all over the continental United States."
This summer, Baker wrote a piece for Hodinkee titled, "Understanding the New Middle Class of Watchmaking." He included Oak & Oscar as one of the brands that comprise the Middle Class of Watchmaking, and with time this position has only solidified due to the company's commitment to improvement, quality, and community.
"Each of those brands got to this point in different ways, but after visiting the team in Chicago, I think Oak & Oscar's approach is one of the most sustainable. I feel that way for a few reasons:

Oak & Oscar has its own design language – no matter the watch, there's a throughline in the brand's aesthetic that almost never deviates. You'll always find details like sandwich dials, the numeral seven with a hash through it, and the use of core colors including navy blue, dark grey, matte white, and orange. There's even a design trick the Oak & Oscar teamed has dubbed "the eclipse" – where the counterbalance logo on the seconds hand lines up once a minute with a logo or hidden logo on the dial. It's rare to find this level of visual consistency in such a young brand. 

There aren't too many releases. It's difficult for many up-and-coming watch brands to resist the temptation of releasing too many watches. After the success of the first few releases, some brands will take away the wrong lessons and start to drop a new watch every month. That's not sustainable for 99 percent of new watch companies, and Oak & Oscar's general strategy has seemed to follow the promise of delivering at least one solid new release per year accompanied by maybe one or two small-batch limited production pieces. This approach ensures Oak & Oscar is able to release the best-quality single product and not dilute its brand identity with inferior designs or quality.

Everything is high touch, even the packaging. Oak & Oscar works with leather suppliers to create custom watch wallets and cases that each order is delivered in – plastic is never part of the equation. 

They aren't afraid to experiment when it comes to partners – after all, how many smaller brands have you seen work with high-level partners such as Wilson and USA Curling?"
There is a lot to be proud of in this story. With each story that comes out, we're reminded of our past as we look forward to our future. Thanks to Logan Baker for his piece, and to the Hodinkee team for publishing the story. 
Read the full story here: https://www.hodinkee.com/articles/oak-and-oscar-chicago
Follow Hodinkee on Instagram: https://www.instagram.com/hodinkee/?hl=en
"The American watch space needs guys like Fancher and his team – people that can push an agenda of quality goods and interesting design forward while still remaining at an approachable price point."