Oak & Oscar Holiday Gift Guide 2022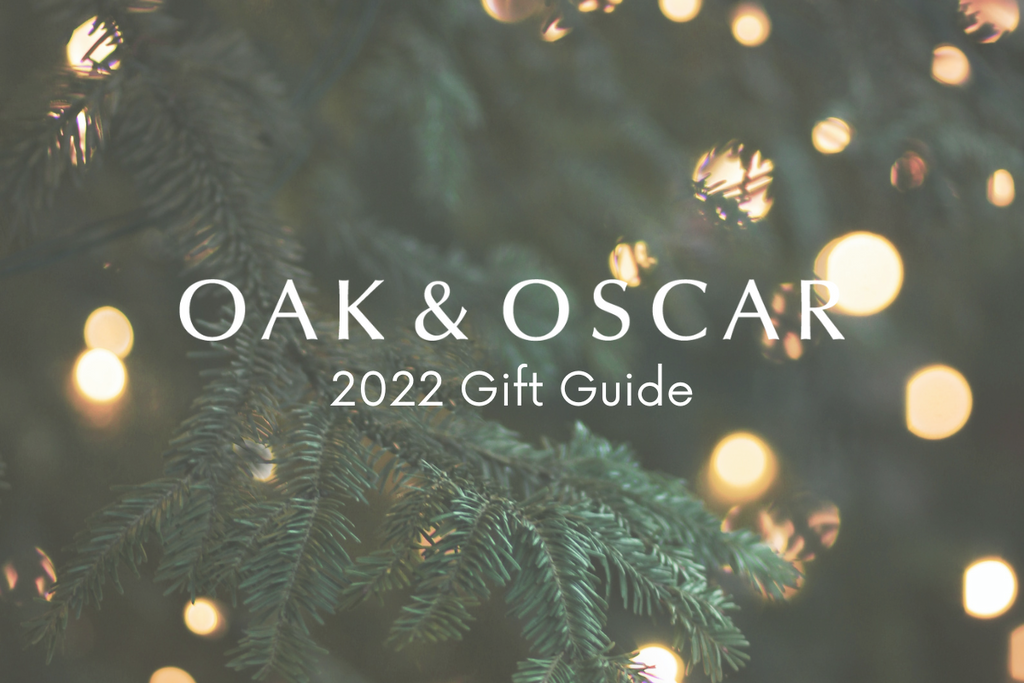 It's the most wonderful time of the year, yet again. 
That's right, it's time for the Oak & Oscar Holiday Gift Guide! We've got a slightly larger team this year, which means that many more gift recommendations.
Some of these gifts are owned by the person recommending them. Others have been researched and drooled over (maybe Santa will be generous this year). In any case, these are the products that caught our eye.
So if you're not buying an Oak & Oscar watch, strap, watch wallet, gift card, or other fun thing, take a look at this collection. 
Chase's Holiday Gift Ideas
YETI Can Cooler
I'm low-key obsessed with these can coolers. The main reason I bought them (...in 8 different colors...) was for days at the beach, back yard BBQs and other get togethers. Besides keeping beverages cold, everyone gets their own color and knows exactly who's drink is who's! Perfect! Shop Now
Patagonia Black Hole Cube 6L
Recently bought this while at the Chicago Fly Fishing Outfitters (hi John!) while helping a friend get prepped for his first fly fishing trip. I've since used it on multiple trips and absolutely love the two-sided, clamshell design with zippered mesh dividers. Perfect for headphones, socks, rain gear, gloves, whatever the heck you want. It's got sturdy attachment loops so clipping it on to your pack is super easy. My favorite color? The Basin Green with orange accents. Shop Now
rOtring 600
I'm a mechanical pencil kind of guy. Always have been, always will be. I like the feel of lead on paper when gliding the pencil point across the page. Plus, you can always erase it if you've made a mistake. No chaotic, cluttered looking scratch outs and absolutely no white-out blotches. Ugh. This German-made mechanical pencils feels high quality, writes wonderfully and comes in a few great colors. I've got a navy blue one (surprise!) and found a limited edition JDM white model. I just saw the green one while writing this and now I kinda want it... Shop Now
Nathan's Holiday Gift Ideas
Four Eye Loupe Magnifiers Set With Headspring
Do you want to see the world like a watchmaker? I can hardly go out into the world without a loupe—once you get used to scrutinizing details up close, it's hard to go back. Warning, this will reveal flaws on objects that you know and love, but nothing is perfect, and it's important to embrace that reality. Also, very handy for pulling out splinters! Shop Now  
Patagonia Steel Forge Puff Jacket
Winter means a lot of things to a lot of people; to me, it means jackets. In holiday guides past, I've recommended some technical Patagonia products, which are excellent but limited in abrasion resistance, so here's a jacket that is more durable for the knocks and snags of every day life.  Shop Now
Oak & Oscar Logo Patch Hat (Dealer's Choice)
These hats are excellent, breathable and handsome. Absolutely choose "Dealer's Choice," we always have fun picking the colors for you at HQ, and you're guaranteed to get a unique combo that looks good! Shop Now
Andrew's Holiday Gift Ideas
Seavees Slippers
Keeping with the cozy theme—I have been a fan of Seavees boots and sneakers for a while, and can now vouch for the slippers. Perfect for this time of year. Shop Now
Legend Durango Camper
The midwest's cold fall, winter, and spring (and sometimes summer) means I lean toward more heavy-duty caps more often than not. The Legend Durango Camper is a 5 panel, low rise cap made in Cleveland, Ohio and also available in a Shetland Flannel. Shop Now 
Calvados Original
It isn't the holidays without your favorite beverage, and I like to enjoy a glass of Calvados after a big meal to settle in for the evening. Familie Dupont has a range of products, and I have found their entry level offering to be quite nice. Shop Now
John's Holiday Gift Ideas
Gil-Tek RUK-P
The RUK-P is the perfect stocking stuffer. It's an ultra compact utility knife, 100% made in the USA. It uses standard utility blades so you can flip or replace whenever the blade breaks or gets a little too dull. Shop Now
Bergeon 6767-F
My favorite spring bar watch tool is the Swiss made Bergeon 6767-F. Replaceable tips are a necessity when working with large quantities of watches. Their website is pretty Swiss, but you can find it easily through Amazon. Shop Now 
Knipex 87-00-100 Cobra XS Pliers
Knipex makes high quality hand tools in Germany. The Cobra XS pliers are pocket sized, but make no compromises on functionality. Shop Now
Branden's Holiday Gift Ideas
Iwana Tenkara Fishing Rod
In a sea of complex rods and reels, I love the simplicity and compatibility of a Tenkara rod. The rod collapses down to 12", meaning you can throw it in your pack and bike or hike to gorgeous mountain streams for some rare fishing opportunities. Because of the rod's build material, you can fish anything from small stream to full sized fish. Don't knock it 'till you try it. Shop Now
Meater Plus Bluetooth Enabled Meat Thermometer
Now that I'm officially part of the Traeger club, temperature control is my best friend. Nothing makes that easier than the Meater meat probe, which reads internal and ambient temperatures to let you know exactly how your cook is progressing. Go for the Plus over the Original — otherwise your phone won't make it more than 10 feet from your cook for however long you've got it on there. Shop Now
Barebones Harvesting and Gathering Bag
I'm getting more and more into gardening and homesteading, as well as foraging (mushrooms, greens, berries—all that the PNW has to offer). This waxed canvas bag is as functional as it is beautiful. There is an inner removable waterproof liner if you need it, otherwise the quick-drop bottom is perfect for harvesting apples and dropping them right into the press (as we do when it is cider season around here). Shop Now