From the Bench: Meet Nathan!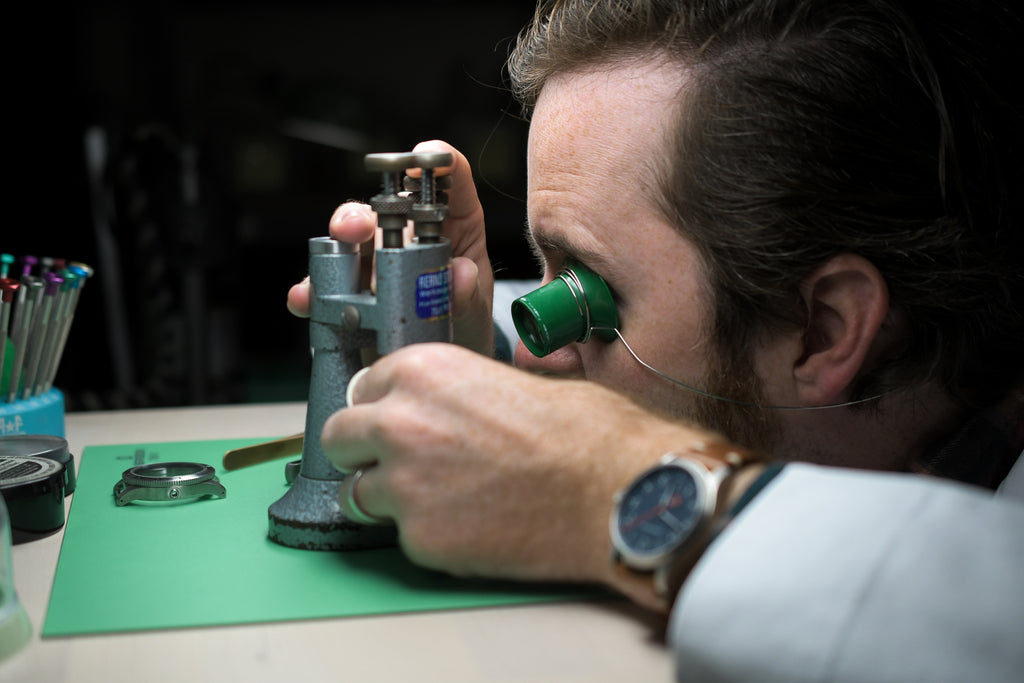 Hi everyone! Nathan here. I am thrilled to join Oak & Oscar, and I want to say a little about who I am, and what I'll be doing.
My watchmaking career officially began at the Lititz Watch Technicum in Amish country, Pennsylvania, but my love for watches goes back a lot further than that. I was a clock for Halloween more often than not, most memorably as a father-and-son combo costume of Hickory Dickory Dock—yet, I insisted on being a tiny clock that rode on the giant mouse's shoulders.
Before watchmaking school, I was a broadcast journalist here in Chicago. I graduated from Loyola University Chicago and worked as a newswriter at some of the biggest TV and radio stations in town. After a few years at a computer, I decided it was time to work with my hands.

Watchmaking school itself is a wild experience, and I wrote about it extensively during my time at LWT. You can read all about it on my personal blog at www.bobinchak.com/watchmaking if you're interested.

Oak & Oscar impressed me from its earliest days, with an impeccable sense of utilitarian style and design. Chase and I had been in touch through the Horological Society of New York, for whom I worked as an instructor, and he acted as a host for their traveling education classes. When he reached out to see if I was interested in joining the team, it was an easy choice.

I am joining Oak & Oscar because I believe in the company, and Chase believes in doing watchmaking right. He wants a partner who knows the inside of the watch as well as the outside, and that can't be said for everyone.

Bringing me onboard allows Oak & Oscar to plan for a long and strong future as a company. Instead of just designing watches that look great (and they do look great), we are designing watches that can be repaired and maintained for generations. We don't want you to shrug and stick your Oak & Oscar watch in the junk drawer when it needs a service—we want to fix it up and get it back on your wrist for a lifetime of future adventures.

Having a watchmaker in-house allows us to make even more exciting products in the future. With the ability to prototype and assemble watches right there at HQ, we can bring our dreams to life faster than ever.
I will also be writing regularly with perspectives from the bench. There is a lot that goes into an Oak & Oscar timepiece, and since we sweat the details, we want to show them off. Stay tuned, and get ready for an exciting new phase in our company!