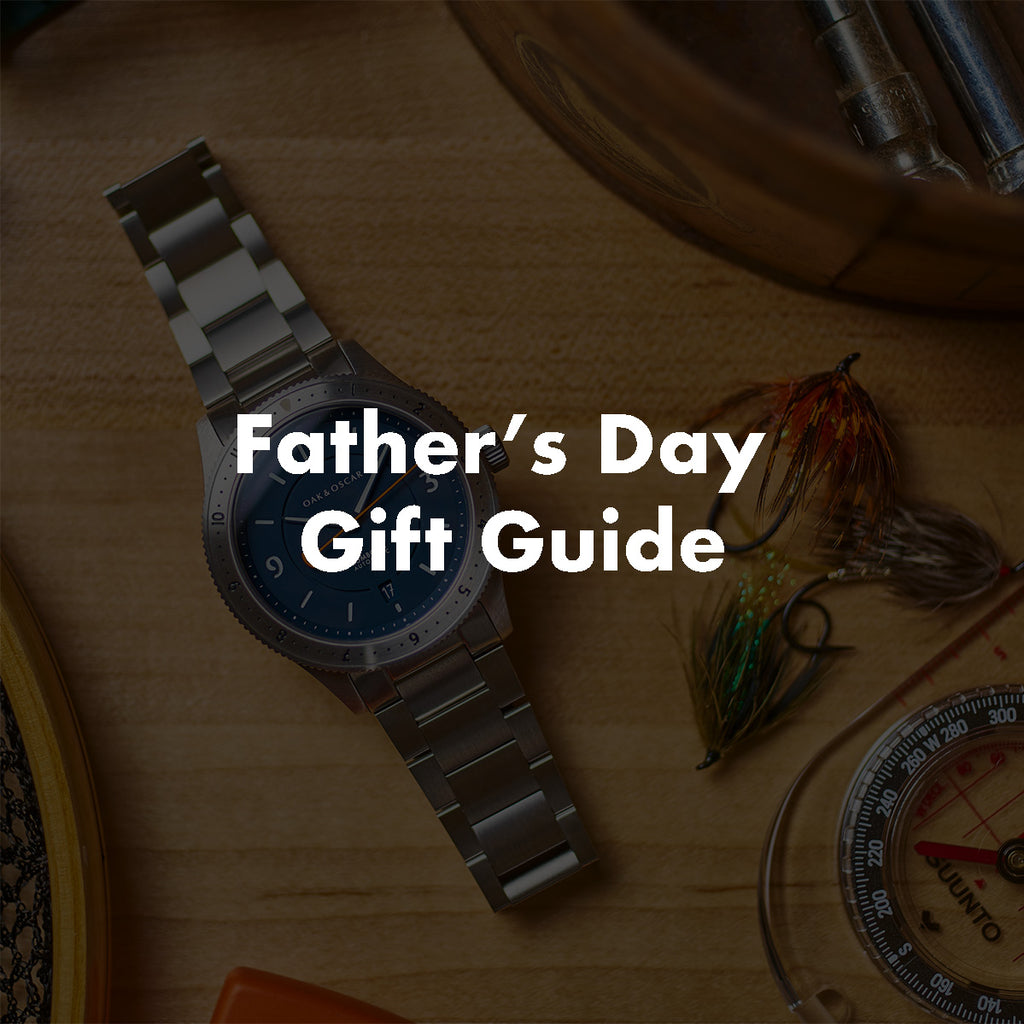 Sure, we're biased...
But we happen to think an Oak & Oscar watch is the perfect gift for Father's Day. And for that matter, for Graduation Day. What discerning individual wouldn't be downright gobsmacked by a meticulously crafted, Swiss-powered timepiece, complete with multiple strap options, a waxed canvas watch wallet, and a strap changing tool?

So when you think about the Dads and Grads in your life this month, keep these options in mind.
The Humboldt. 
A perfect adventure watch! Built to withstand whatever it is your dad can throw at it. Even if it's just lots of great BBQ sauce. 'Cause that bezel is perfect for keeping track of grill times...
SHOP
The Olmsted
A classic field watch that celebrates both nature and urban landscapes. The highly legible dial and iconic numerals form a distinct, functional design. The Olmsted has 10atm water resistance and is built to discover! SHOP
Need more ideas? 
We know, not every father figure needs a watch right now. To help you out, we've gathered some other ideas for you.
Chase's Top Picks
HOROFIX SPRING BAR TWEEZERS
- $90
Our current line up of watches have drilled lugs and that makes strap changes relatively easy. Want to make it even easier? Grab this strap changing tool and don't look back. You and your lugs will both thank me later.
SHOP
FLAVIAR MEMBERSHIP - $300/year
With a Flaviar membership, dads will receive quarterly tasting boxes, invitations to live tasting events and and access to hard-to-find bottles. If Little Oak gave me this as a present, I'd know he actually loved me.
SUBSCRIBE
FISHPOND SUBMERSIBLE SLING
- $230
Fly fishing is my newest hobby and I can see how easy it is to get addicted to this sport. With this submersible sling from Fishpond, your dad (or, let's be honest...you) can be confident that your gear will stay dry while on the water.
SHOP
YETI ROADIE 24 COOLER
- $200
Small enough to fit between the sits but large enough to hold 18 cans (plus ice!) this cooler combines good design, quality materials, and amazing branding into the perfect travel companion. Oh, and yes, it comes in orange!
SHOP
Nathan's Top Picks
AMERICAN TRENCH SOCKS - $12.50-50
2021 is going to be a fun year, dangit. What's a better way to jazz things up than a fun new pair of socks? No, I'm serious. American Trench makes awesome, classic and fun socks right here in the USA.
SHOP
ONE TAIL AT A TIME
Know what else is fun? A dog! Dad doesn't want (another) dog? That's fine, a donation to One Tail at a Time in his honor is a good substitute. A portion of every Oak & Oscar benefits OTAAT too, so you could always buy a new watch and make it a twofer…
DONATE
A GREAT SPEAKER - $150-$400
Whether your dad enjoys camping, trips to the beach, park, or just the back yard, a good way to listen to music makes every outdoor outing better. The UE Boom 3 ($150) sounds great and lasts forever. The Sonos Move ($400) sounds really great, and integrates easily with an existing Sonos setup!
SHOP
SWISS STYLE WATCHMAKERS HAMMER
- $5.79
Does a dad in your life like tools? It might seem like he has everything…but I bet he doesn't have a tiny watchmaker's hammer! Remember, it's not the size of the hammer, it's how you use it. 
SHOP